DANA Glasslined Water Heater (DEH30,DEH50,DEH80,DEH100)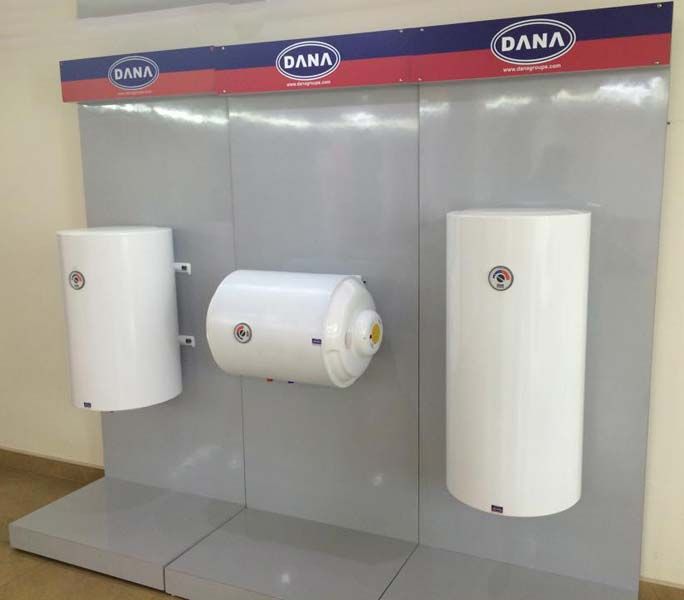 USD 100 / Piece(s) ( Approx )
Min. Order (MOQ) : 100 Piece(s)
We have gained prominence as the Manufacturer, Exporter, and Supplier of DANA Glasslined Water Heater from Dubai, U.A.E. The range of Water Heater we offer is made by talented designers who follow the latest market trends for its fabrication. We check the Water Heater on various quality standards before approving for delivery. We are proficient in delivering DANA Glasslined Water Heater across the world.
Standard Features :
Inner Tank - The inner tank of DANA GLASSLINED is circular welded & is Dry Powder Porcelain Enameled to provide ultimate protection against corrosion.
Insulation - The thick CFC-free Polyurethane foam insulation helps in excellent heat retention and economical electrical consumption.
Heating Element - Superior Quality Italian element which is ergonomically designed for efficient heating and cutting down electricity costs.
Thermostat - Plug-in type Double safety Italian thermostat which ensures optimal temperature maintenance.
Magnesium Anode - Specially designed thick Magnesium alloy anode ensures maximum protection from corrosion.
Outer Body - The Outer Body of DANA GLASSLINED is made up of high quality steel with high gloss epoxy polyester electrostatic powder coating to provide effective protection against corrosion in varied climatic conditions.
Splash-guard Technology - Directs incoming cold water to the bottom of the boiler,thereby eliminating the mixture of hot and cold water.This mechanism ensures continuous supply of hot water at all times.
Safety Valve - Twin function non-return cum safety valve which maintains pressure inside boilder,hence prevents expansion of inner boiler tank,in event of thermostat failure.The non-return function helps to retain water inside the tank in order to prevent damage to the heating element

Technical Specifications :
Warranty-Each water heater is warranted against manufacturing defects & tank leakages.For detailed warranty terms & conditions refer to our "Warranty Certificate".
Other storage capacities can be manufactured on client request.
Keeping in pace with rapid technological developments the technical specifications are liable to change without prior notice.
All water heaters are supplied with User/Installation instructions and warranty card.
All Heating element & thermostat comply with International Standards.
Voltage : 220 V
output : 30-100 ltrs
Pressure : 8 Bar
Certification : CE,ISO 9001:2008
Brand Name : DANA
Type : Electric Storage Water Heater
Power : 1.2Kw-3.0Kw
Condition : New
Installation : Wall Mounted
Heating Element : Copper Sheathed Heating element
Power Source : Electric
Warranty : 5 years against leakage
Material : Titanium Glasslined/Enameled
Place of Origin : United Arab Emirates ( UAE)
Inner Tank : Glasslined/Enameled
Heater : Electric Heating Element
Additional Information:
Payment Terms : L/C, D/P, T/T
Packaging Details : Standard Export Packaging in 5-ply corrugated Cartons
Delivery Time : 3-7 working days
Technical Specifications
Model : Dana Glasslined
Capacity
30/50/80/100 ltrs
Mounting
Vertical/Horizontal
Outer Body
Superior Quality Steel with Electrostatic Powder Coating
Inner Boiler
Steel Tank with Porcelain Enameling
Insulation
High Density Polyurethane foam
Element
Long-Lasting specially designed Italian element
Power Specifications
Rated Voltage 220-240V/50-60 Hz/1200-1500Watts
Thermostat
Adjustable 30°C-90°C Rating-15Amp/73°C
Magnesium Anode
Included
Color
Brilliant White(Other colors available on request)
Testing Pressure
12 Bar
Max. Working pressure
9 Bar
Safety Valve
Included
Operation(Pilot)Lamp
Present
External Thermometer
Present
Earthing Connection
Present
Warranty
Against leakage 5yrs
Container Loading Capacity/40ftHQ
30 ltr – 648 pcs | 50 ltr – 598 pcs | 80 ltr – 416 pcs | 100 ltr – 312 pcs