GALVANIZED STEEL(GI) COIL SUPPLIER IN OMAN (DANA STEEL)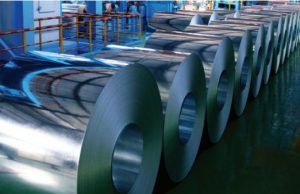 USD 100 / Meter ( Approx )
Min. Order (MOQ) : 1 Meter
Galvanized iron (g.i)
hot dipped galvanized steel is produced by passicaptureng cold rolled steel through a molten bath of zinc at temperatures around 460 °c. The zinc acts as a physical barrier between the atmosphere and the surface of the metal. Further, due to its lower chemical potential than iron, it is attacked and dissolved first, thereby offering superior corrosion resistance ( cathodic protection ).
Dana steel uae with it's headquarters in dubai,manufacturing facility(crm complex) at dubai industrial city . Our continuous galvanizing line ( cgl) has the state-of-art dual-pot system which is capable of manufacturing galvanized(gi) and aluzinc(az) coils .it is also having online nof technology along with online skin pass mill ( spm) and tension leveller(tl) to produce the highest quality of galvanized and aluzinc coils in various spangles(regular,minmized,zero) and zinc coatings(90gsm -500 gsm).
With it's 4 coil service centers cum distribution centres in dubai & ajman is one of the most prominent manufacturer for galvanized coils(gi coils) in the middle east.our service centers are equipped to handle coil weights upto 20 mt and can cut/slit sheets upto tolerances of +/- 0.50mm .in addition to cutting & slitting facilities we also provide custom fabrication jobs ( profiling/cutting/bending/perforation) for our valuable customers.
Application : Constraction
Surface Treatment : Coated
color : silver
Brand Name : DANA STEEL