Medical Equipment Stabilis Walker with Electronic or Pneumatic Height Adjustment.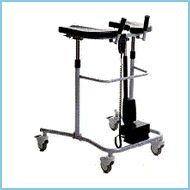 The cushions are easily removed andcan be changed.
The handles have a comfortable round shapeand are forward facing providing a better and more ergonomic grip.
The Stabilis Walker can be delivered with Pneumatic orelectronic height adjustment.
A short model for children is also available.
Maximum weight of user 150kg
High enough for tall users
Electric version built to support rising.
Detachable battery for easier maintenance.
Height adjustment from right and left side.