COMPACT OEM PVC BALL VALVES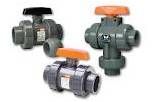 Light weight and compact PVC ball valves idea for OEM applications due to its' high quality and low cost. The internal components are completel encapsulated within the valve body in a one step manufacturing process. There is no danger of leakage through assembled parts. 

These valves do not require adjustment because all the internals are sealed wtihin the one-piece valve body. "